Hundreds of people gathered at a fish harbor in Pakistan's city Karachi on Tuesday 7,February 2012 to see a 40-feet long dead fish, a sight uncommon in the country during the past many years.
 The giant whale shark washed ashore on Tuesday but according to media reports it was spotted unconscious 10 days ago some 150 kilometers away from the fishery.
 A dead whale shark, reportedly 35-40 feet long, was found near Karachi Fish Harbour, Pakistan, by local fishermen on Tuesday. Some experts hold that the whale shark, which will go on display for three days at the auction hall, might have been killed after it got caught in a net.
 Fishermen in Karachi, Pakistan reeled in a 36-foot long dead whale shark, using two cranes to haul it from the harbor. The sea creature weighed about 15,432 pounds and was discovered by a passing fishing trawler.
 The dead whale shark was lifted off the water with the help of more than two cranes, after earlier attempts had failed.
Two cranes tried to lift the whale shark out of the waterway as inquisitive bystanders grouped on the berth. The two cranes failed to lift out the fish, and additional cranes were called in for the chore. The whale shark was finally picked up from the sea after several hours.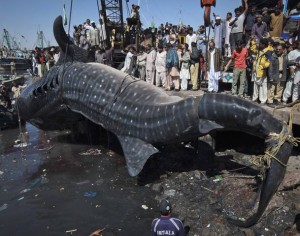 "I have bought the fish, which usually has no significant commercial value, with the help of my friends just to appreciate the efforts of the fishermen who deserve some reward after spending an entire day in the open sea," said Haji Qasim, who claimed he purchased the dead whale shark for Rs. 200,000 ($18,750).
Meanwhile, it has been confirmed that the whale shark will be displayed for public view and its owner will take fees from people coming to see the fish. The creature will reportedly remain on display for three days at the harbor's auction hall.
It is pertinent to mention here that the whale shark is often found deep in temperate oceans, chiefly on plankton. Reports suggest that the biggest found whale shark was 41-feet long,A portion of the whale shark's fin was damaged. Besides, the creature was losing blood from the gills.
According to Moazam Khan, marine biologist at the WWF, some 30 whale sharks have been found dead in the seas of Pakistan in the last seven years.
In July 2010 a 17-foot whale shark was found on the shores of Hawksbay in Karachi, but Tuesday's fish was certainly more than double in size and weight.