Founded on December 31,2011, Envirocivil is the growing Environmental and Health news blog which focuses various issues on environment. The site thus provides users a unique experience by accumulating best of any different genres on a very single domain and also focus to provide a user with unique and quality content within a single domain.
The articles posted on the website relate to topics including, Climate Change, Health and Wellness, Sustainable Development, Structure and Environment ,Health and Environment, Global and Local Environmental Issues (Including All Issues),EnviroMations , Tips and tricks, Top 10 category environment category and Wild Life photography
This site further serves as a launching pad for young and new authors in the field, providing them with the platform where they can explore their hidden talent, by writing articles. This site also offers free publishing of research articles and thesis of the students so that they can gain some experience and get reviews worldwide.
EnviroCivil Completes its 1st year:
Envirocivil.com is completing its first year on December 31, 2012. On the occasion of its anniversary, EnviroCivil has decided to publish the 1st issue of its environmental magazine named "EnviroCivil Mag 1st issue". Top 25 articles have been selected for the magazine, from the diverse collection of literature over a year, and we are looking for another 25 articles.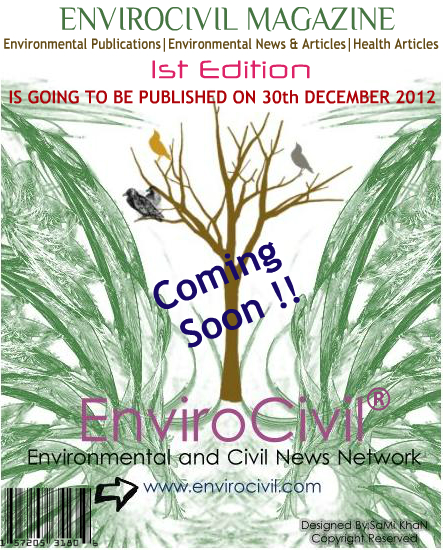 So, if you think, you have good writing skills, and passion for environment, the opportunity is here. Please hold your pens and write for us. Your article might also get a chance to become a part of EnviroMag's 1st Issue.
The selected articles will go through the extensive review from an expert panel. Author guidelines for EnviroMag could be found at Write for Us page on envirocivil.com.
Last date for Submission of articles is 22nd December 2012,after that no article will be selected.
Contact:
Kamran Shafqat                                                               Sami Naeem Khan
(Founder: Envirocivil.com)                                    (Co-Founder: Envirocivil.com)
Mobile: +92347-7602125                                       Mobile: +92313-5345551
Email id: kamran.shafqatali@yahoo.com             Email id: samikhan90@live.com