By Mubashir Tanver: Climate change is an emerging threat for our planet. It has manifested in disasters of impulsive frequency and intensity in different parts of the world. Pakistan is facing large number of impacts resulting from climate change. The floods of 2010 and cyclones of 1997 and 2007 are harsh reminders of the fact that we are conferring a serious challenge posed by climate change.
Pakistan has been to be found among the 'high risk' category of countries impacted by climate change. Pakistan has been ranked among the top 10 highly vulnerable countries impacted by climate change.
Pakistan contributes very little to the overall Greenhouse Gas (GHG) emissions, but is more vulnerable to climate change. A changing pattern of monsoon waves in 2010 caused floods 2010 that swept Khyber Pakhtunkhwa and Sindh provinces, there was a great loss of billions of dollars in agriculture and infrastructure, the monsoon waves entered through Afghanistan into Pakistan turning away from their traditional course. The environmental expert warned that abnormal shift in the monsoon network could bring a major disaster in the South Asian region and the impact could be so adverse that it could push 600 million people below poverty line. Almost 14 million people have been affected by the torrential rains in Pakistan.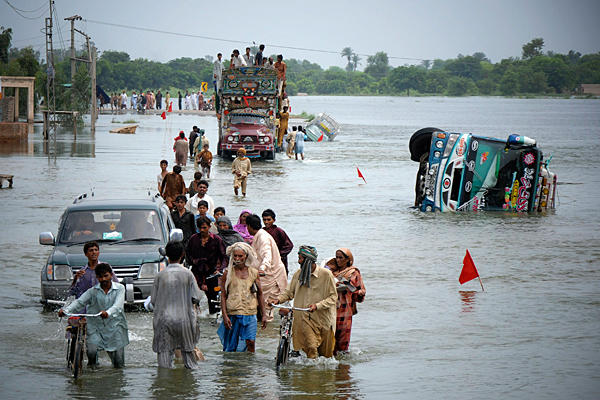 Pakistan is most vulnerable to climate change as it is in the region of melting glaciers. The melting Himalayas cause a serious risk to the sustainability of water resources in the region. South Asia is vulnerable to greater disasters in the wake of climate change as more than 750 million people in the region have been affected by natural disasters in the last two decades. As the Sindh province is the lowest riparian of the Indus River System so, it is under great threat of being effected by climate change. Sind's water availability, cultivation and socio – economic conditions are going to be effected by climate change.
The solution lies in understanding the climate and environment of the region and taking preventive measures to frustrate them. With an alarming rise in the frequency of disasters, Pakistan needs to consider a long-term master plan for disaster risk reduction. Pakistan needs to adopt an approach of climatically appropriate development planning. A nationwide catastrophe planning, risk reduction planning and valuable response mechanism is instantly required to avoid devastations.